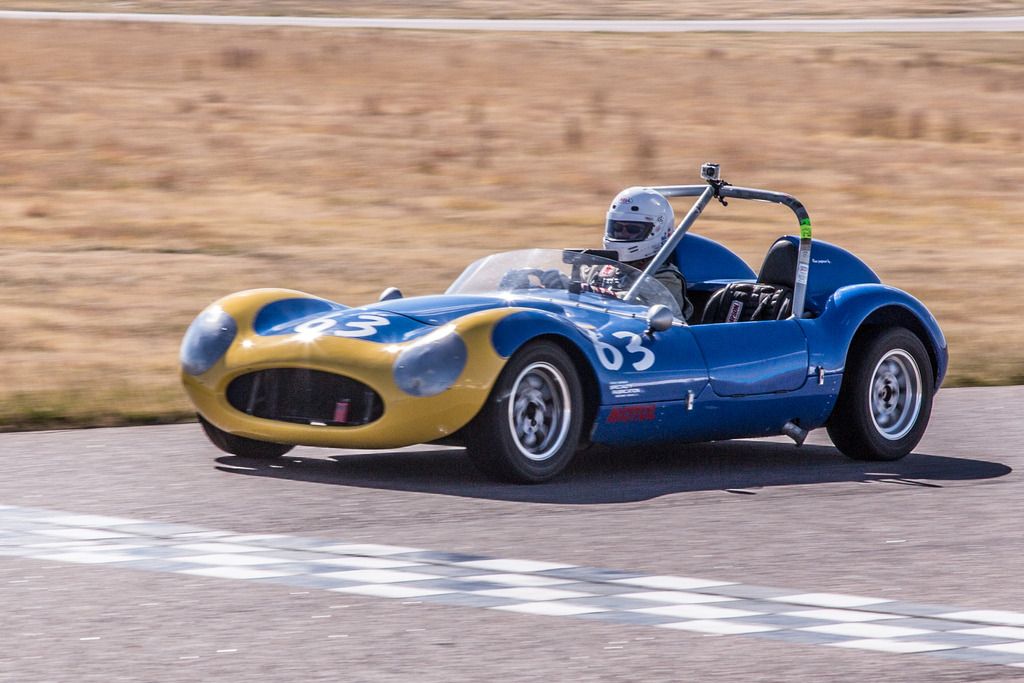 picture courtesy of Andy Gould from the enduro last year
-SOLD-
Recent pics:
http://s1108.photobucket.com/user/TigerBob86/library/Falcon%20Feb%2019%202017
This 1963 Falcon Competition Mk3 is a front-engine sports racer based on Ford Cortina crossflow 1300cc drivetrain components.
Falcon Shells was founded in 1956 in Essex, England and the company produced lightweight competition bodies that could be fitted to a variety of existing chassis. One of the more well known was the Elva Mk1 which looks strikingly similar to a Falcon Competition. The Falcon Competition was available as either a bare shell or as a complete kit with a variety of drivetrains including the Ford 100E sidevalve engine. This particular Falcon was constructed using an MGA drivetrain. Distinguishing itself from the Mk2, the Mk3 has a flip front (clamshell) bonnet and boot. According to the Falcon Shells registry, this is the last known Falcon Competition Mk3 known to exist.
From late 1990 through early 1994 this car received a comprehensive ground-up restoration by Steve Ferron's Speciality Fabrication in California and was converted to a no compromise vintage race car. This restoration included a complete new frame fabricated from 1.25 by .095 4130 chrome moly material to replace the rusted orignal frame. The original MGA drivetrain was also replaced with that from a Ford Cortina.
The 1300cc Crossflow race engine was professionally built by AVO and is fitted with dual twin-throat Weber DCOE 40 carburetors and MSD ignition. The engine also features a dry sump oiling system, six bolt Tufftrided crankshaft, Venolia pistons, custom ground camshaft, steel rods, Gilmer drive, Deves rings, Duplex timing chain and sprockets, and dual valve springs.
Other features of this car include custom built headers with ceramic coating, custom built radiator and tanks, hand built custom suspension system, 
Halon fire system, Fuel Safe 8 gallon fuel cell with new bladder in 2012, wide ratio 4 speed Cortina transmission and narrowed rear end with Summers Brothers axles. It also has a Tilton clutch and fly wheel. The Minilite wheels wear newer tires with disc front brakes and rear drums.
The clamshell body allows for easy access and maintenance with dual headrest farings and is painted early Mazda Miata Mariner blue. The nose was recently repainted.
The car was raced with VARA between 1994 and 2003 at tracks including Willow Springs and Buttonwillow. In 2013 the car was gone through by David Irwin in Evergreen, Colorado. David Irwin's shop converted the braking system to use dual master cylinders and filled all excess holes in the firewall.
The car was used once for a 2013 test and tune day and was then stored. In September 2016 it was gone through again and received it's 2016 annual inspection and cleared for racing with Rocky Mountain Vintage Racing (RMVR). It raced RMVR's 2016 Fall Sprints at High Plains Raceway where it ran flawlessly through the weekend.

The Falcon runs very cool and the car is dependable, fast, and forgiving. It competes in the E/SR class and was a two-time season champion with VARA. It competes in the CSR class with RMVR. It has logbooks from both racing organizations.
New 2017 harnesses.  I'll make sure the car passes its 2017 annual tech.
ID number:FS38776S
bobdixon at frii dot com